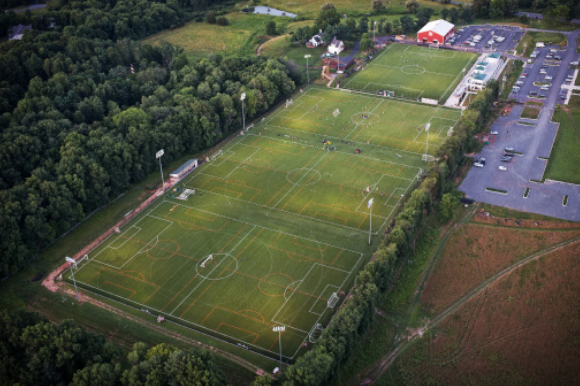 The East Coast Premier Cup will use the premier facilities in Loudoun VA. All games will be at the Evergreen SportsPlex and the Philip Bolen Memorial Park. Supplemental fields are available as needed.
Evergreen Sportsplex: The nearly 44-acre facility features four fully lit over-sized FIFA certified, bio-turf fields capable for the use of a variety of sports. Employing the latest synthetic turf playing surface insures that Evergreen Sports Complex's fields are just that–ever green. Utilizing the highest levels of irrigation planning allows the fields to be quick draining which means fewer rain outs and no sloppy fields. Plus, the artificial
surfaces provide a soft landing when players fall, helping reduce the chance of injury. These fields have
more inter-woven fiber and less fill, a superior product that performs more like natural grass.
CroppMetcalfe Park & Adventure Course compliments the fields with more destination features. A place
where people can come and enjoy a game, their child's practice, a trip on a zip line, or just a casual
dinner out with friends.

The stadium features bleachers can seat approximately 1500 people with additional seating in
CroppMetcalfe Park and auxiliary seating which can be brought in if needed.
Philip Bolen Memorial Park: The 405-acre regional park is only a short drive from downtown Leesburg and minutes from Dulles International Airport. Built in 2011, this multi-million dollar sports complex offers eight large soccer fields with an additional two turf fields to be added, completely lit fields of Bermuda grass with ample parking. CHECK OUT THE VIDEO HERE for BOLEN
Additional Fields At Brambleton Community Park if need.